Restoring your car to like-new condition after an accident is a complex process that involves assessors, insurance agents, parts dealers, and mechanics. Most people are involved in a car accident at some point, so it's important know what happens to your car while it's in an auto body repair shop. Here's a look at the evaluation and repair process from the time a collision occurs to the moment that the keys are back in your hands.
First Steps of Auto Body Repair
Towing Your Car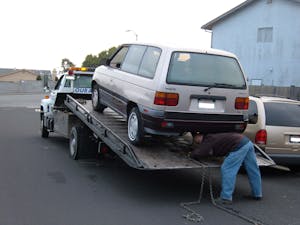 It's better to be safe than sorry after an accident. If you think your vehicle may be too damaged to operate, don't drive! Instead, call an auto body shop for a tow. Beware of tow trucks that comb the streets searching for stranded vehicles and instead choose to work with a trusted shop or tow service. Otherwise, you may find yourself paying a dishonest tow company just to get your car back.
Evaluation of Auto Body Damage
Once your vehicle arrives at the shop, an assessor from your insurance company or a mechanic will conduct a preliminary evaluation of the visible damage. Though other damage may be found while taking the car apart, the initial evaluation allows the assessor and/or mechanic to estimate the cost of the damage, order any necessary parts, and give you an idea of how long you'll be without your vehicle.
Estimation and Insurance Costs
Once the superficial damage has been assessed, photos are taken and a detailed report of the damage is compiled. The collision repair shop then communicates with the insurer to determine the potential costs of repairing the vehicle. Will they use aftermarket or original manufacturer parts? Which parts can be repaired, and which must be replaced? What will the shop charge for labor, and how long will it take? Depending on the type of insurance that you have, the company may try to reduce costs by negotiating for cheaper parts, a lower labor rate, or a quicker repair.
Both the car owner and the insurance company must sign off on the final decisions, so if you have input or questions, make sure to communicate them to your mechanic.
Actual Auto Body Repair Work
Teardown Phase and Parts Replacement
A second evaluation of the vehicle occurs in the teardown phase, in which the car is partially or largely disassembled. Based on the location of the damage, external pieces of the car are removed and any internal damage is assessed. A supplementary report is prepared for the insurance company and a final completion date is established.
Once the owner and insurance company are in agreement, replacement parts are sourced and ordered.
Body Repair
After the necessary parts are received in the auto body shop, the mechanics can begin work. An electronic measuring system is used to ensure that repairs are precisely executed and that the car is restored to factory specifications. Structural damage is repaired and internal components are replaced along with any damaged panels. The structure, frame, and alignment are reset and digitally analyzed to ensure they are perfectly placed.
When the Repairs are Finished
Reassembly
Now that your vehicle looks like a whole car again, it's time to replace any electrical wiring, airbag system components, hoses, and any other items that might have been disconnected or moved during the repair process. Your mechanic will do a test drive to make sure that all parts are functioning as they should.
Painting and Refinishing the Vehicle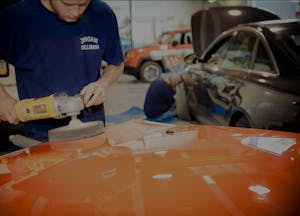 Repairing the car so it can run perfectly is top priority, but most people are just as concerned about the appearance of their vehicle.
Several processes go into achieving a perfect finish. Sanding and smoothing the body surface provides the best canvas for paint. Primer is applied first, then the paint that has been digitally matched to the original, followed by a protective clear coat. Finally, all surfaces are cured and polished to create a glossy finish that will last for years.
Detailing and Final Inspection
The final step is to do a thorough internal and external cleaning of the vehicle so that you drive away from the shop happy. Your collision repair shop will then review in detail all of the work that has been completed and the total expenses. Now the car is ready for a final quality inspection and a test drive.
If all is well, the customer will return to the shop, sign the required documents to finalize the transaction and the warranty, and be on their way.
Looking for the Best Auto Body Repair Experience?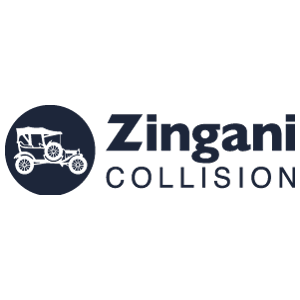 Now that you know all of the details of restoring a car after an accident, it's time to choose the right repair shop. Zingani Collision is a highly trusted collision shop in Delaware County with more than four decades of experience in auto body repair, and our mechanics are the best in the business.
Our comprehensive service includes 24/7 towing, a free estimate, and we work with all insurance companies, negotiating on your behalf to get the maximum benefit you're entitled to. All of our repair work comes with an unbeatable 5-year guarantee so that you can feel confident in the quality of our service. We even work with you to build a payment plan if your deductible is out of budget.
When an accident happens, contact us so we can take care of your car from start to finish and return it to you in like-new condition. Call Zingani Collision today!