Cracked windshield repair and replacements are inevitable nuisances for most drivers. Windshield damage is difficult to avoid and rarely the victim's fault. Maybe a stone popped out of a construction truck driving in front of you and pitted the glass. Weather events like hail, intense heat, and extreme cold can contribute to the risk of a break. If a frozen windshield is heated too quickly, the glass can crack easily, similar to when a hot windshield is rapidly cooled.
We do windshield repair and replacements every day in the shop. Read our guide below and then give us a call to discuss the best solution for your vehicle based on the extent of the damage.
Types of Windshield Damage
There are names for different types of chips and cracks, and identifying them will help you decide whether or not your windshield can be repaired. Below are the characteristics of different types of damage. When evaluating your chip or crack, note the approximate length or diameter, depth, and location.
Chip — Area missing a small amount of glass
Pit — Area missing a significant amount of glass
Bullseye — Circular chip
Partial bullseye — Half-circle chip
Star break — Short cracks extending from the center
Crack — Line of damage that can be under an inch or take up the entire windshield length
Combination break — Area of damage that is a combo of crack/chip types
How to Prevent Windshield Damage
Often, a cracked windshield is just the result of bad luck, but there certainly are steps you can take to reduce the likelihood of incurring windshield damage.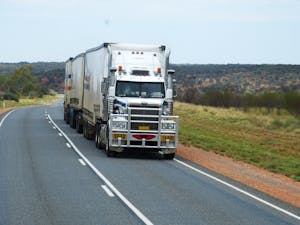 Avoid driving behind semi-trailer trucks and other large vehicles — Vehicles with 4 tires in the back tend to cause more stones and other debris to fly around than a passenger car.
Keep appropriate distance behind vehicles — All vehicles are capable of throwing gravel and debris around. Avoid tailgating so you are less likely to be hit by a projectile from the wheels of the car in front of you.
Park in the shade when possible — Heat makes your windshield susceptible to expanding and breaking and has the potential to worsen any existing crack or chip.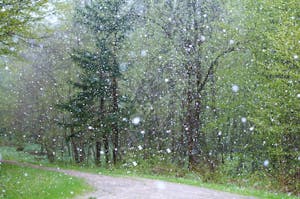 Protect your car from hail – Cover your vehicle during hail storms. If you are caught in a hailstorm, reduce your speed to lessen the the hail's force on the windshield.
Conduct spot checks – Periodic inspections of your windshield will reveal chips or cracks that could otherwise go unnoticed. When you do find damage, bring the vehicle in to be repaired as soon as possible in order to prevent further damage.
The Dangers of Cracked and Chipped Windshields
Whatever the cause, it is important to replace or repair a cracked windshield that interferes with the driver's view of the road. In Pennsylvania, you will get a ticket for driving with a windshield in any of the following conditions:
Windshield glass that has shatters or exposed sharp edges
Chips or cracks that are directly in the driver's line of vision
Any large cracks or discoloration (this also applies to any of the car's other windows)
Federal law also requires drivers to have an unobstructed view of the road and allows for cracks or chips up to ¾ inch in diameter as long as they are not located within 3 inches of another crack. The critical space that must be unobstructed according to federal code is the area directly above the steering wheel, two inches from the top and one inch from the side.
Even more important is that it's dangerous and negligent to drive with a cracked windshield. In addition to impairing your view, a chipped or cracked windshield can create numerous hazards. A small area of damage can quickly and unexpectedly shatter due to hitting a bump or pothole, an accident (even a fender bender), or extremes in temperature.
Because the windshield is an integral part of the car's structure, it acts as a support to the roof. When the windshield is damaged, the car's structure is weakened and cannot absorb as much impact in the event of a collision.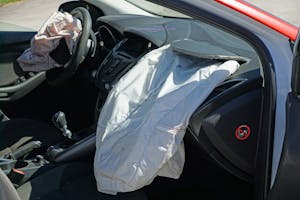 Damaged windshields may also interfere with the deployment of the car's airbags and render them less effective during an accident.
Finally, a chip or crack that could have been easily repaired will inevitably get worse, increasing the cost of repair or even rendering it irreparable, causing the need for a replacement.
Cracked Windshield Repair and Replacement
Whether a windshield should be repaired or replaced typically depends on three factors: the size, depth, and location of the crack or chip.
Size — A chip that is less than ¾ inch in diameter or less than 3 inches long typically can be repaired. Depending on depth and location, the limit might be shorter or longer.
Depth — The depth of the crack or chip refers to how many of the windshield's 3 layers that the damage has penetrated. If the damage reaches down to the third layer, it cannot be repaired.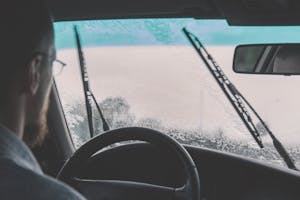 Location — A chip or crack that occurs around the outer perimeter of the windshield is likely to cause or promote structural damage to the support of the vehicle's roof and will likely call for replacement. Of course, any damage that causes an impeded view for the driver will also require the entire windshield to be replaced.
Steps for Replacing or Repairing a Cracked Windshield
Cracked windshield repair is a very common procedure and generally takes less than half an hour. It involves injecting a resin into the damaged area to restore the windshield's strength and stop the damage from spreading.
Windshield replacement is a more complex process. We begin by removing the trim that keeps the windshield in place and carefully lifting it out to ensure it doesn't shatter.
Next, the pinch weld (the groove that seats the windshield) is cleaned, prepped, and filled with urethane, which will hold the new windshield in place.
Finally, the new windshield is installed into the prepared pinch weld and held in place until it cures. You will usually be able to pick up your car within an hour of the windshield being replaced.
Need a Dependable Auto Body Shop for Your Cracked Windshield Repair?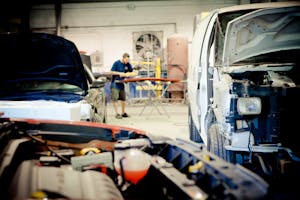 Cracked windshield repair must be handled by a professional to guarantee a safe fix or replacement and avoid future troubles. If you've sustained a chip or crack in your car's windshield, bring it to us at Zingani Collision. We'll recommend the right process to get you quickly and safely back on the road. Contact us today!