As a car owner, you'll inevitably find yourself using an auto repair shop at some point. Even the safest of drivers can't control the recklessness of others on the road. No driver is immune to the occasional dent or scratch caused by careless passengers or mother nature. It's just the unfortunate reality of owning a car. Zingani Collision offers a variety of services, but here are the most common collision repairs that we see from our customers.
Front-End Collision Repair
Being in a car accident is traumatic in itself; getting your car repaired after a front-end collision shouldn't have to be. When your car sustains a front-end collision, it typically incurs damage to its bumper, grills, headlights, and/or hood. Minor damage like cracked headlights and indented bumpers as well as major damage. Significant damage can not only affect the look of the car but also compromise interior mechanical structures that aren't visible, and should be assessed and repaired as soon as possible after an accident.
Rear-End Collision Repair
As one of the most common collision repairs, damage from rear-end collisions happens extremely frequently and may require a large amount of repair work. The rear bumper, taillights, trunk, and/or fenders may be affected. A rear-end collision is usually caused by something completely out of our control, whether it be a driver who isn't paying attention, inclement weather, or having to stop short for an animal or other hazard in the road.
While rear-end collisions often avoid interior mechanical damage, they do tend to require extensive cosmetic repairs. Sometimes auto body repair shops are able to salvage your existing car parts with some remodeling. However, more serious accidents may require you to replace those parts altogether.
Dents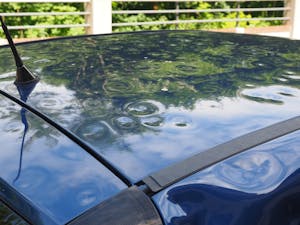 When you return to your car to find a new dent in it, sometimes you can pinpoint the cause — maybe there's a fallen tree limb nearby or a dent that clearly came from a driver that parked adjacent to you and opened their door carelessly. At other times, the cause may be unclear.
Dents – another of the most common collision repairs – don't usually cause enough damage to affect the performance of your vehicle, but they are unsightly and can lower your car's value. Leaving dents in the body of your car indefinitely can cause rust, which will make the damage more difficult and costly to repair in the future.
If your bumper is dented, the repair may be more complicated and involve replacing the part altogether. It's especially important to replace a damaged bumper as bumpers don't just absorb the impact of a blow to your vehicle — they are connected to other complex systems in your car such as the lighting and warning systems, airbag deployment, and cameras.
Cracked Windshields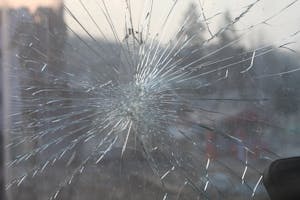 When an object falls onto or hits your windshield while you are driving, it can be absolutely terrifying.
It may be easy to ignore a smaller windshield crack in the short term; however, at some point that crack will spread out into a larger one that eventually causes the entire windshield to shatter or cave in. This can be extremely dangerous to you, those in your car, and other drivers as well. Smaller cracks can often be fixed — and at a reasonable cost. Larger cracks, on the other hand, often call for the entire windshield to be replaced.
Windshield repair or replacement is one of the more common collision repairs, and is often covered by your comprehensive insurance. Some states or insurers don't even require you to pay a deductible for it and will provide the repair at no cost to you. This is an important one — don't drive around for another day with a cracked windshield!
Deep Paint Scratches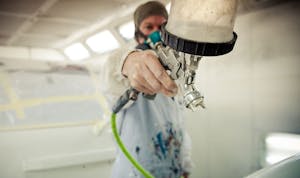 Deep scratches can be caused by sharp objects accidentally coming in contact with your car — or they can be caused by vandalism, when someone keys your car intentionally.
There are plenty of DIY car scratch remedies; however, they end up looking like a do-it-yourself project! If you want your car to look as if it had never been damaged and ensure that it retains its value, then you'll want to take it to a professional for a proper repair.
Our technicians may be able to easily buff and repaint the scratched area, depending on where the scratch is located on your car and its severity. However, deep scratches may require you to replace the part where the defect is located.
Suspension Damage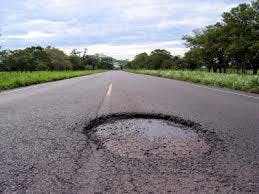 Did that giant pothole you hit come out of nowhere? Either way, you hit it, and now you've damaged your car's suspension. The suspension absorbs the shock of the many bumps your car passes over in a day or week and is essential in protecting the rest of your car's systems.
The cost of repairs to your suspension may be covered under a collision insurance claim. However, if you aren't covered for collisions, you can try to recoup repair costs through the state, local, or private entity that's responsible for maintaining the roadway where the damage occurred.
The Best Auto Body Repair Shop for Your Common Collision Repairs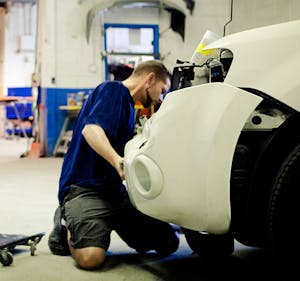 Zingani Collision is the most trusted name in car accident repair. We are dedicated to the highest quality craftsmanship, and we ensure that your car retains its optimal value after an accident. If your vehicle is in need of repairs, our experts will repair the damage as if it had never happened so that you can get as much mileage as possible out of your car — and the best resale value.
Whatever your collision repair needs may be, Zingani's highly trained staff will bring your car back to tip-top condition, making sure that you and your family are safe on the road and that you maintain the investment you made in your car. We'll ensure that any damage is contained and doesn't create rust or weakening of your car's structure.
Call us today to learn more about services and our five-year repair guarantee. When you need quality results fast, Zingani is the only name you need to know!