An internet search on the subject of DIY fixes for car dents will bring back all kinds of results, from step-by-step guides to dent repair kits for purchase. With all of these resources available, why bother taking your car to an auto body shop to get those pesky dents fixed? After all, it can seem like a nuisance to go to your mechanic for an issue that doesn't even affect how your car drives on the road. However, there are actually some very good reasons why you should let an auto body repair shop take care of those repairs.
Different Types of Car Dents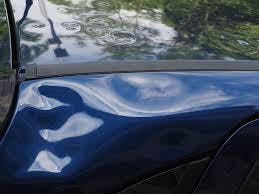 There are two categories for automotive dent repair: paintless and conventional. Paintless dent repair is used on small dents that do not require any touch-up paint. Examples of paintless dents would be those caused by hail damage or door dings.
Conventional dent repair, on the other hand, is for larger dents and can often require repainting the panel that was damaged. These types of dents are commonly seen in car accidents, and they should always be taken to a professional.
The Problems With DIY Car Dent Repair Kits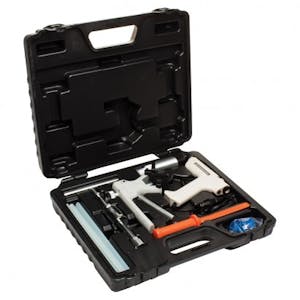 Kits can vary signficantly in price, with some costing into the hundreds of dollars. You tend to get what you pay for. If the kit you have in mind is on the more expensive side, you may not actually save any money over what a professional will charge. Once you get the kit, you might find that it cannot be used to repair the dent in question. Despite what the manufacturer may claim, no kit will work well on corners or edges that are rounded. And if the dent involves paint that is torn or even cracked, a DIY kit is not the solution. That type of damage requires the skill and experience of a professional auto body shop.
To make matters worse, dent repair kits can be awkward and difficult to use, and the repair process can be very time consuming. It is important to evaluate whether you have the time to follow the kit's instructions and processes carefully and completely.
Most dent repair kits are designed to be braced against the car when pulling the dent out. Unfortunately, this can further damage the vehicle, depending on the part of the car where it is braced. Just imagine the frustration you would feel as you are trying to pull out one dent and wind up creating a brand new one! Or perhaps you applied a little too much force, and now you have an unsightly bubble where before it was only a dent. Additional repair costs can quickly stack up as you struggle with an awkwardly designed kit. Remember that using just a little bit too much force can cause additional cracks and damage to the paint. Even the suction cups so commonly used in these kits can damage the paint if they end up sticking too securely to the car during the repair.
In addition, whatever caused the dent in the first place may have caused structural damage that you can't see. This is especially true when a dent resulted from an accident that damaged the bumper but can occur to other areas of the car as well. For example, foam is often built-in behind your car's bumper to absorb impact and protect you from injury in the event of an accident. When this type of damage goes unnoticed and unresolved, it can cause your vehicle to become less safe and even dangerous for you and your passengers in future accidents.
The Benefits of Using an Auto Body Repair Shop for Dents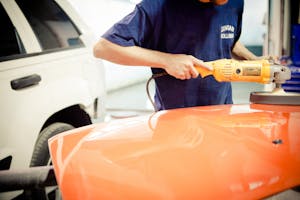 When you take your car to an auto body shop to have a dent repaired, a professional who has probably pulled out hundreds if not thousands of dents will be doing the work. They know how to sculpt the body of the car to restore its proper shape without causing the paint to crack or tear. Based on the size, location, and type of dent involved, a skilled technician will use the most appropriate technique and the right equipment. They have the knowledge and experience to perform the repair properly, and good auto body shops will guarantee their work.
Here's another good reason to have a professional repair those dents and dings: professional repairs are going to positively impact the resale value of your car, where DIY repairs are a major gamble. In addition, if a dent is small enough for you to consider fixing yourself, then it's going to be inexpensive enough for you to take it to a professional without breaking the bank. A good auto body shop will also have the computerized equipment to match your paint if necessary.
Professional technicians are trained to recognize the signs of underlying structural damage. They also know which areas need additional inspection based on the surface damage and how to resolve any structural damage they find. Risking your safety to save even a few hundred dollars isn't worth it!
Reliable Auto Body Shop in Media, PA for Your Car Dents & More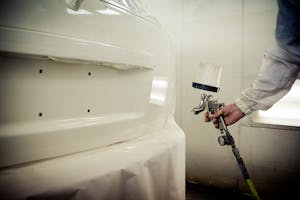 At Zingani Collision, we can take care of anything from a ding resulting from a hailstorm to a dent received in a collision. Our skilled and dedicated technicians will restore your car to like-new condition, resolving any structural damage that may be involved and creating a flawless finish with our state-of-the-art paint matching system. We'll even work directly with your insurance company to take the pressure off of you. Let us put our 40 years of auto body repair experience to work for you. Contact us today for a free estimate – you will be glad that you did!